'Injury Prone' Carson Wentz Continuing to Prove He's Made of 'Paper-Mâché'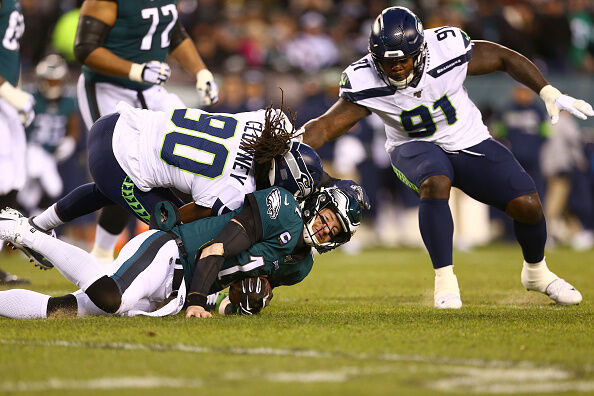 Ben Maller:

"Carson Wentz was supposed to kill the demons that are following him around and show us that he's not a fraud, and was going to break the trend of being injury-prone. But in the blink of an eye in his first postseason it's OVER… The only thing he accomplished was him still being unable to shake the injury tag and in fact, he DOUBLED down on it. In 2015 at North Dakota he broke his wrist, and in the NFL he had a hairline rib fracture in 2016, he tore his ACL in 2017, injured his back in 2018 and 2019, and now you can add this concussion. This has done nothing to kill the legend of Wentz being made out of paper mache. The Eagles franchise is being held captive until Wentz either snaps out of this or goes to another team. He's ALWAYS hurt and if you are always hurt than you are INJURY PRONE."

(Full Audio at Bottom of Page)
Listen to Ben Maller explain why Philadelphia Eagles quarterback Carson Wentz is one of the most injury-prone players in the league after Wentz was knocked out of Philly's Wild Card game against Seattle.
Wentz had only completed one pass before being crushed by Seahawks defensive end Jadeveon Clowney in a hit to the head that many around the sport have called 'dirty'. Wentz wouldn't return, and the fear is that he may have suffered a concussion from the devastating helmet-to-helmet hit.
Maller says this was just another example of Wentz unable to remain upright, as the once NFL MVP front runner has suffered a laundry list of injuries ever since college, with the repeated ailments never slowing down in the NFL.
Check out the audio below as Maller details why Wentz is made out of 'paper mache' and a guy the Eagles franchise will never be able to lean on.

The Ben Maller Show
Want to know more about The Ben Maller Show? Get their official bio, social pages & articles on FOX Sports Radio!
Read more